Back
Anti-Bullying Activities, Ideas & Resources for FREE this November!
Are you looking for creative Anti-Bullying activities for your class this Anti-Bullying Week? We're here to help!
Anti-Bullying Week 2020 (16-20 November) may feel a little different this year, but its message is as important as ever. Educating, protecting and empowering children to tackle bullying in all its forms has been our priority for many years now. That's why, for the entire month of November, we are are opening up access to our new online teaching resource, Uno, for free.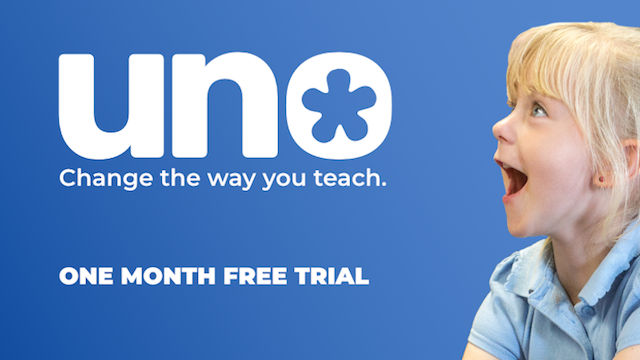 What is Uno?
Uno is an easy-to-use website, jam-packed with interactive videos and teaching resources to aid creative learning in the classroom. We made Uno because we know that primary schools may not be able to welcome visitors into their halls just yet. However, we also know the incredible power that creative education has to support teachers and bring curriculum topics to life!
From PSHE topics like Anti-Bullying to History, Literacy, Mindfulness, Geography and more, Uno can help change the way you teach. The activity-packed videos range from short and snappy warm-up activities to full-blown day workshops. You choose the topics that matter to you, download the accompanying teacher guides and press play. Simple as that.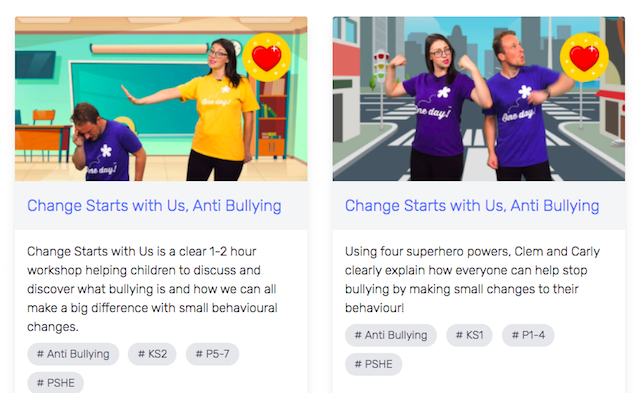 What Anti-Bullying activities will I find on Uno?
Good news – we already have two Anti-Bullying Week resources on Uno for KS1 and KS2 pupils! Both carry the theme 'Change Starts With Us'. Designed to last 1-2 hours each, these videos will help you guide your pupils through an exciting, drama-based workshop complete with freeze-frames, discussion points and thought-tracking. Led by our fab facilitators, Carly and Clem, you'll be using your bodies, brains and imaginations to find out how we can all help put a stop to bullying, together.
Being kind, helping others, understanding emotions. These are big, important messages that are crucial to any Anti-Bullying activities. However, we know the learning doesn't stop when our videos do. That's why each Anti-Bullying Week video is accompanied by a supplementary Teacher Guide, containing ideas for additional activities, challenges and learning outcomes in the future.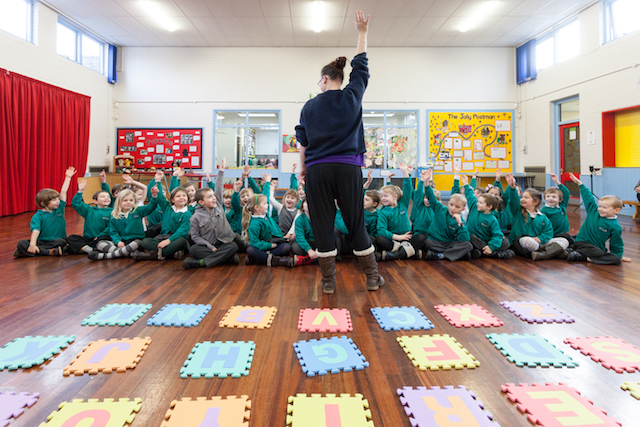 Why are you offering free access for Anti-Bullying Week?
For years, we've spent Anti-Bullying Week delivering creative workshops in schools all over the country. As core members of the Anti-Bullying Alliance and staunch believers in the transformative power of creative education, keeping pupils safe and supporting teachers through this important week has dominated our calendar each and every November. We love it, we care about it, and judging by the avalanche of bookings we receive every year, you do too!
As we all know, schools up and down the country are trying to adjust to 'a new normal'. We are too. But come what may, Anti-Bullying Week remains a time for us to join together, channel our collective powers and play our part in reducing bullying. We want to ensure we continue to make the most important messages available to schools, teachers and pupils all over the world. That's why, for the entire month of November, you can sign up to Uno and enjoy our entire library of videos, without paying a penny.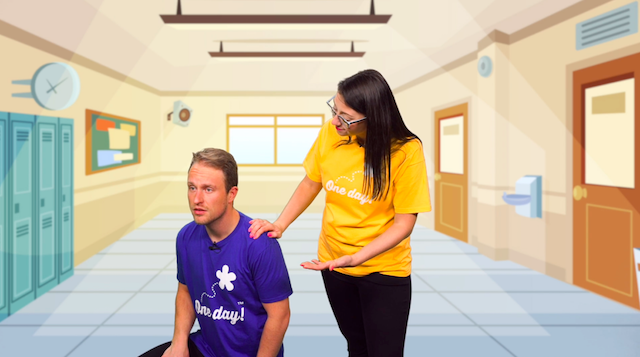 Okay! How do I sign up?
It's easy-peasy. Simply head over to the Uno website and sign-up using your school email address (don't worry, we won't ask for any payment details). You'll automatically receive free access right through until the end of November.
Once you're in, you can browse the library of videos or search by age group, subject, activity-type and keyword. Found what you're looking for? Great! All that remains is to press play.
Obviously we hope you love what you see on Uno and join us long-term as we continue to add even more exciting videos on a range of cross-curricular topics. But in the meantime, please do make the most of our Anti-Bullying activities for free this November. We'd love to see you there.
With all best wishes from all the team at One Day Creative x
P.S. If you are able to welcome visitors into your school, we'd still be delighted to hear from you. From our dedicated United Against Bullying workshop for Anti-Bullying Week 2020, to old favourites like the circus-themed R.E.S.P.E.C.T, we continue to work with schools to deliver in-person workshops as safely and securely as possible. Please get in touch if you'd like to know more!