Back
A Day in the Life of a Primary School Facilitator in 2020
By Jenny Wemyss
Six months after lockdown began, it's brilliant to finally be back doing what we love – delivering creative workshops! But has anything changed? This is what a day in the life of a One Day primary school facilitator is like in 2020, following the reopening of schools.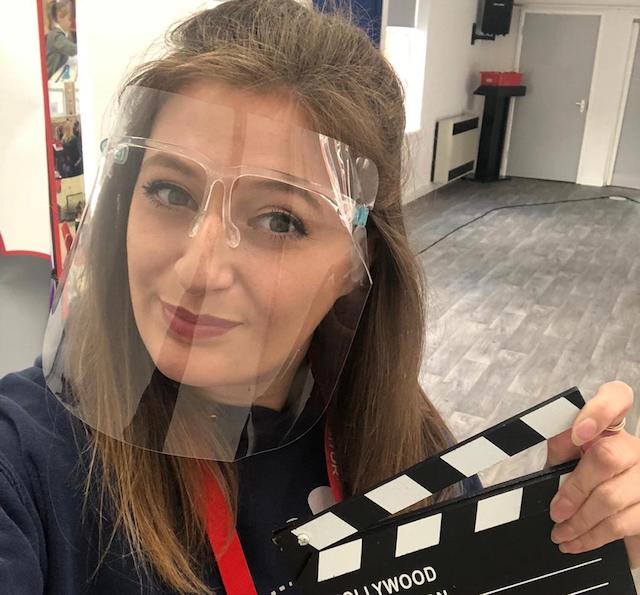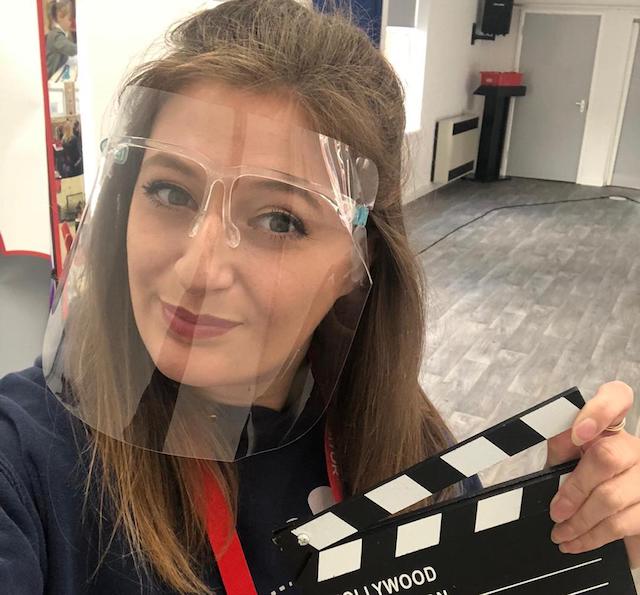 Preparation (and creativity!) is key
Recently, I travelled to Leeds to deliver our World War Two workshop for KS2. My preparation was mostly as normal: I receive information about the class, any particular needs and the space we would be using. But there's one additional piece of information I now get – the school's Coronavirus guidelines.
This means I can tailor my research and planning, choose props and music, and pack a bag ready for the day. Luckily, safety measures in schools (such as bubbles) still allow us to be able to work in groups. This means the children really get the most out of their time!
On the morning of the workshop, I don my mask and sign into the school ready to begin. I have made some recent additions to my daily prop kit: rope to divide up the space and colourful floor spots to help with social distancing. I find that pupils barely notice the changes, especially when the room can be set up creatively. In fact, in pre-Coronavirus workshops I've used rope to 'create' ships, air raid shelters, circus rings or simply a stage! Classes take to this naturally, so social distancing becomes a normal, stimulating part of the experience.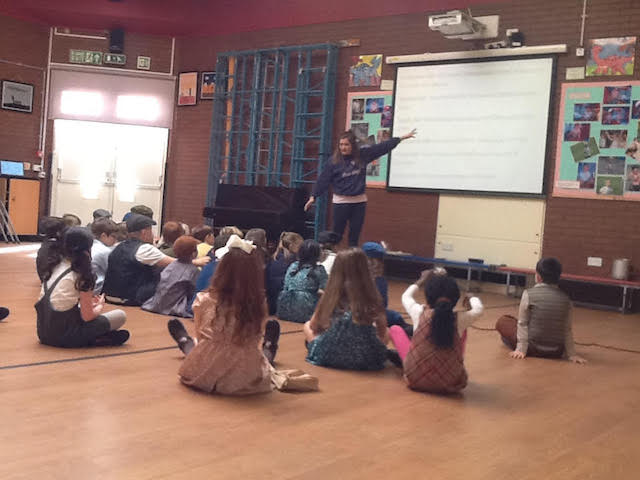 The funs begins!
As the class arrives I use music to set the scene and draw them into the topic. After introducing myself, my first game is to see what knowledge the class already has. A lively, action-based true or false quiz usually does the trick! And then before long, it's time to get moving…
We begin with fast-paced group tasks, then the activities build throughout the day as their confidence and independent creativity grows. After warming up, we get into more detailed tasks where they learn the historical context of World War Two and create scenes in small groups for key events. This culminates in a fabulous whole class performance, as if the timeline was coming to life!
In larger groups, the class create instructional Anderson bomb shelter adverts. Their task is to use persuasive techniques to convince the people of Britain to buy an Anderson shelter, then demonstrate how it was built and used. The class were brilliant at this and each team amazed me with their enthusiasm and inventiveness.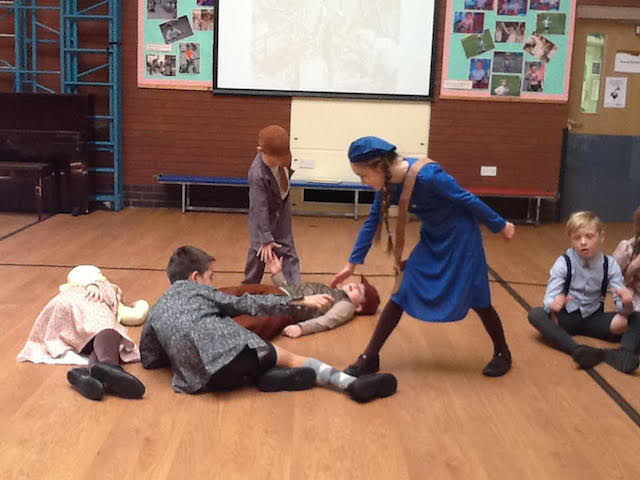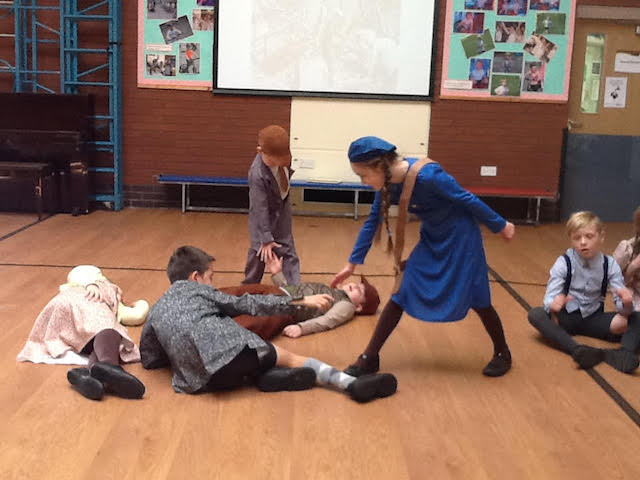 Team work makes the dream work
My aim as a primary school facilitator is always to get the class working in as many different group combinations and sizes as possible, so they can learn from each other too. Activities alternate between individuals, pair tasks and group work to keep everything exciting. The benefit of this is that they are able to retain more knowledge and stay engaged all day with ease.
Another advantage, that has become more relevant during recent times, is that it is incredibly flexible. We are able to adapt and deliver workshops to fit the current Coronavirus guidelines schools are working with, no matter the group size they are limited to!
Solo activities such as 'Acting Out The Air Raid' are perfect for this! We focus on the technique of miming, and the pupils improvise along to my narration of an emergency. They were fantastic, clearly performing how people in World War Two would go about their daily lives, and how they prepared their home for the Blackout and the Blitz. Upon hearing the Air Raid Siren, their facial expressions showed the range of emotions felt as they moved to safety.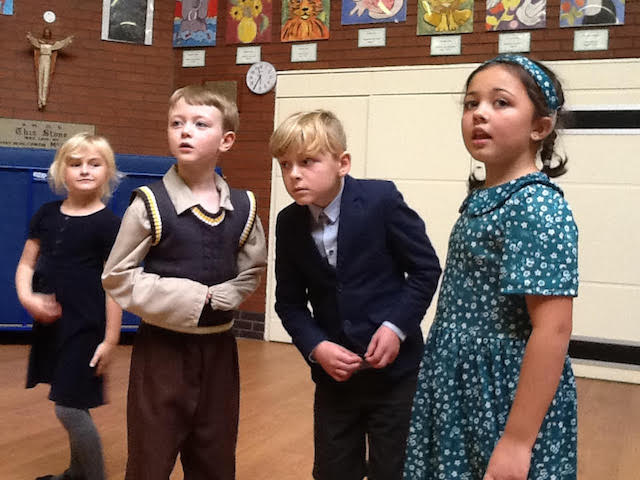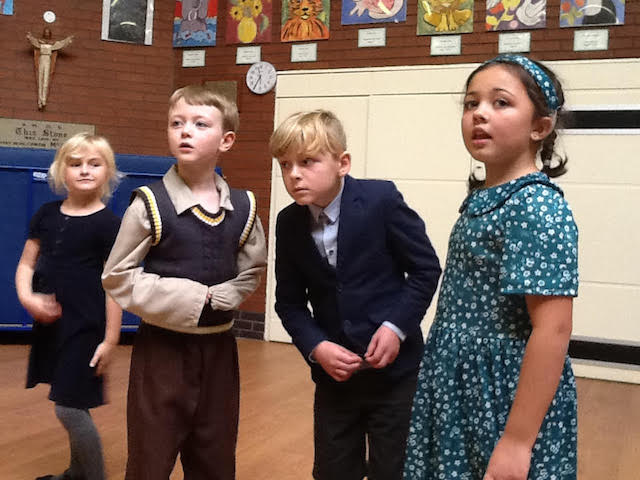 Good times lead to greater learning 
It's brilliant to see the deeper understanding our workshops bring. Alongside all the fun, pupils were able to have mature serious discussions and relate it to their own experiences and emotions. They developed empathy to historical experiences and could compare it to their lives today.
Out of the many exercises we did, the class were fascinated with Evacuees! At the end of the workshop they were keen to tell me how our 'performance' of travelling by train to the countryside was one of their favourite parts! For me, the best part of being a primary school facilitator always has to be seeing the classes we work with go away with huge smiling faces and a passion for learning!
If you would like to find out more about our range of creative education workshops and how we can work with your school, don't hesitate to get in touch! If you're not able to welcome visitors into your school just yet, we have a brand new online teaching resource called Uno, packed with interactive videos and teacher guides. Check it out!