Back
Video Workshops in Schools: Behind the Scenes at Uno!
Have you heard of Uno, our new online resource for primary teachers? Today, we wanted to give you a special peek behind the cameras, to find out what it's like to build an entire library of cross-curricular video workshops from scratch! Who better to do so than the two friendly faces behind the screen – Carly and Clem.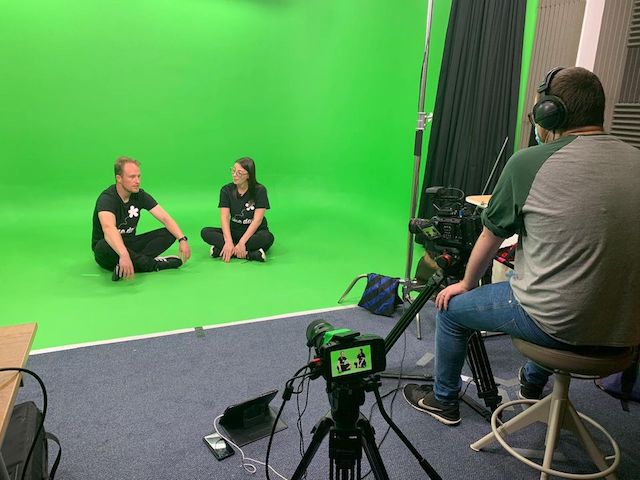 How has filming video workshops been different to delivering face-to-face workshops?
Carly: It's been a reflective process indeed. Being able to watch the videos back and improve on each take to get the highest quality is still quite a novelty, compared to face-to-face workshops where you don't get a dress rehearsal!
Clem: Normally my high-energy Facilitator 'personality' is confined to a school hall. Now the whole world is able to see it! That's been a bit out of my comfort zone, but it's also been quite freeing. Equally, I feed off the energy from the children in the class, and often the flow of the work comes directly from them. When we're presenting we have to imagine how a class of children might respond to what you're saying. Luckily we have decades of experience in that!
What has been your favourite workshop that you have recorded so far for Uno and why?
Carly: I loved recording the Great Fire of London workshop for KS1. The content is super diverse and we had a really fun day taking on the characters of Samuel Pepys, Thomas Farriner and King Charles II. I'm also a bit of a history geek and loved delving into the research side of things to sort the fact from fiction whilst writing the content.
Clem: I'm proud of our Resilience and Sportsmanship workshop for KS2. The workshop really helps teachers encourage humility, grace and kindness in their pupils, alongside creative thinking and team work skills. There's a story we use about the Syrian swimmer Yusra Mardini, who is a goodwill ambassador for the UN Refugee Agency, and her experiences leading up to the Olympics. It's really inspirational.
What have you enjoyed most about being involved with Uno?
Carly: Having the opportunity to write new songs, melodies, activities and even create new drama games based on curriculum topics. Also having the chance to work with film makers and appear on screen for the first time.
Clem: One Day's usual teaching methods are personal and engaging, partly because of the presence of an experienced Facilitator in the room with pupils. Digital learning is a totally different way of connecting with pupils and it's been amazing to see how much Creative Education transcends mediums. I've loved thinking creatively to adapt activities to engage pupils through video.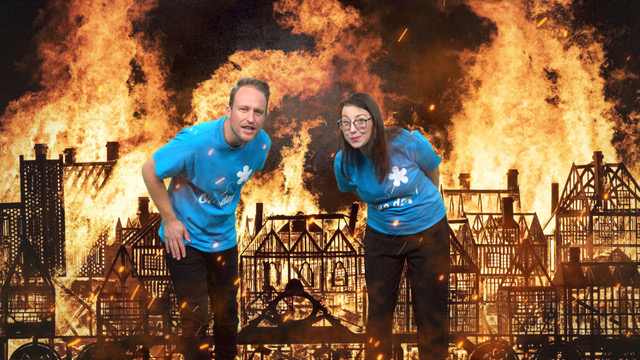 How have you found adapting the workshops for screen and what has been the process for this?
Carly: It's something completely different to teaching in my residency schools, so it has been brilliantly refreshing yet creatively challenging too. When creating the video workshops, we take inspiration from all our pre-existing scripts and cherry pick excellent activities that we think will best translate onto screen. We also develop brand new activities to keep our content fresh and current. We tend to discuss who in the team is best experienced and specialists in each particular topic and then assign the projects.
Clem: This has been one of the most enjoyable experiences of the process. One Day has a wealth of activities to work from and it's been great to be able to bring my own ideas to the table as well. We start from our existing content packs and look at what might work remotely, or what could work with some adaptation. We then add value by developing some new ideas, activities and concepts. Finally, we look at Uno as a whole and make sure that the content is fresh and doesn't overlap with anything else. Each activity should be exciting for children, even if they've seen all the Uno videos!
How were the filming days in the studio? What did you get up to behind the scenes? 
Carly: The filming days can be quite intense as we have so many ideas and activities that we're keen to get on film. However, because we're so passionate about Uno and children's education as a whole, the days fly by and we always have a good giggle.  It's sometimes a bit tricky keeping a straight face when you're bouncing around like a horse, mad scientist or some other random character that features in our video workshops. We often have to take a moment or two to calm ourselves down!
Clem: We've had some proper laughs in the studio when filming! On those days, we are essentially in a big green box with no windows so it does send you a bit wild towards the end of the day. There was one point during filming the Great Fire of London video workshop, we struggled to get through an activity without laughing… see if you can spot where this was!
What advice would you give to a teacher looking into using Uno with their class?
Carly: Use the teacher packs!! There are fab follow-on activities for most of our video workshops and suggestions on how to simplify the activities, support and challenge too!
Clem: Try to secure the school hall. Give some designated time for the lesson. Approach the lesson as you would a school trip – it should be fun, not something to fear! You know your class better than anyone, so play with the ideas in the video and make it work for you. Finally, get in touch with us if you want some personal support with any activities in the video workshops – it's what we're here for!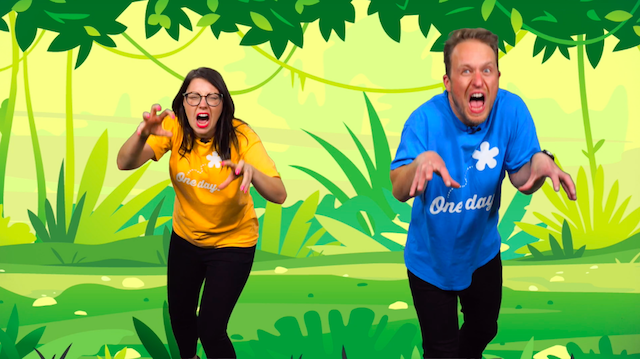 Do you have to have experience in the creative arts and drama to be able to use Uno in the classroom?
Carly: Absolutely not, but bags of enthusiasm is a bonus. My advice would be to join in the fun, get involved alongside your class and enjoy the chance to do something a little bit different.
Clem: Absolutely not! Part of the joy of creating Uno has been thinking about our practice from the perspective of a teacher, and how we can make it as easy as possible for them to use. We always talk about how the children will get so much from the sessions, but teachers will too! It's a great CPD tool for teachers, where you learn lots of new skills that you can use in all sorts of topics.
Where would you suggest a teacher starts with Uno?
Carly: Linking to a topic you're currently studying or using Uno as a starting point before deep diving into the curriculum topic would be ideal! Saying that, there are lots of quick and fun ten min activities that can be used to break up your teaching day and bringing a bit of One Day energy to the classroom.
Clem: The great thing about Uno is that there are videos to use as part of a longer scheme of work, and also some activities that can be used whenever! When you're planning your Schemes of Work, check if you can use an Uno resource and plan that in for a few afternoons during a topic. If you find yourself with a free half an hour, just give one a go! You'll find them easier to use the more you do it.
How do you envisage Uno supporting the children's curriculum learning?
Carly: Hopefully Uno will become a new way of educating from a creative perspective that children need – especially in the current global situation. Uno is an opportunity to blend fun and education to make truly memorable learning experiences!
Clem: Firstly, the versatility of it: the resources can be used at any time and in most places, including internationally! Secondly, it allows teachers to use drama, movement and music in a holistic way – weaved throughout their programmes of work. Creative Education needn't be a one off, or an experience that only happens a few times a year. It is essential we help children develop themselves personally and academically. Uno makes this easy for teachers. It's like a cross between Twinkl and Netflix for Creative Education!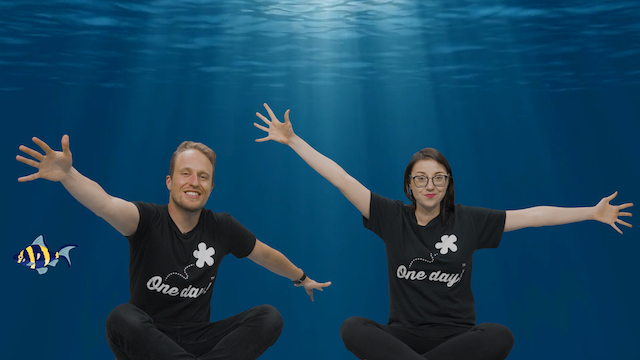 Uno is a new online teaching resource, filled with interactive videos, teacher guides and activities galore to help you bring curriculum topics to life in your classroom. We're really proud of it! Sign up today and enjoy free access right the way through until the end of November 2020.