Imagine coming into school one morning to find out you're to be evacuated to the countryside because your home is no longer safe. This was a reality for many children during World War 2, and you're about to find out why. Come and learn how the war started, who fought in it and what ended it. In this World War 2 school workshop, your KS2 pupils will explore evacuees, air raids, rationing, wartime jobs, plus what it was like for life to change so dramatically!

An ideal History workshop for schools all year round or for Remembrance Day in November.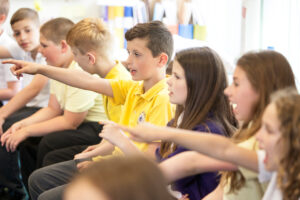 **You can now join us online and browse an exciting digital library of educational videos for primary pupils, including History workshops. Click here to visit Uno.**
"Our P6's had a fantastic day with your Director and staff, pupils and parents were amazed they could do such an impressive performance in just one day. The enthusiasm from Shona was catching & the children responded really well to her. She took time to involve all the children and really brought out the best in what we considered to be our stage fright group- their confidence was fantastic. Super co-operative learning and team work. Plus the organisation and efficiency of your company was fantastic! "
Principal Teacher
Primary School in Aberdeenshire
Close
Enquiry about:
World War 2