We need to talk about the internet! Let's be honest, children already know lots about living life online. However, once we've got the basics right, it's important to take the conversation one step further. The first talking point? How to stay safe online!

Using an array of fun drama-based activities, this engaging workshop supports your pupils to become Online Philosophers. Together, they'll use both their bodies and minds to ponder some pretty big Online Safety questions. For example, how does our digital footprint affect us? Where does that video go when we put it online? What impact do our words and actions have on others? And, crucially, who and where can we turn to if we ever need help?

Philosophers talk. Philosophers act. Join the conversation.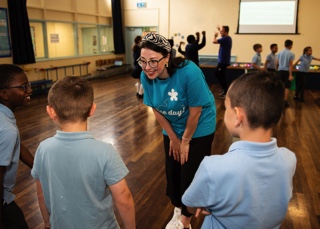 **You can now join us online and browse an exciting digital library of educational videos for primary pupils, including Anti-Bullying workshops. Click here to visit Uno.**
Close
Enquiry about:
Online Safety: The Big Questions