Back
Safe to say, this last year has been a year of changes. Around the world, people have had to adapt to a new, and often changing, normal. But in many ways, there's more to unite us than ever before.
Amidst the challenges, our reliance on technology has burned bright. For chatting with friends and family, for online classes, for marathon TV binges and, of course, for work. Our desks are now a huge part of daily life, which is why we wanted to share the best bits of our workspaces with you! If you need us during the day, this is where we'll be.
Join us for a look at One Day in desks, because there's nothing quite like having a good old nosey around someone else's workspace!
Becky's desk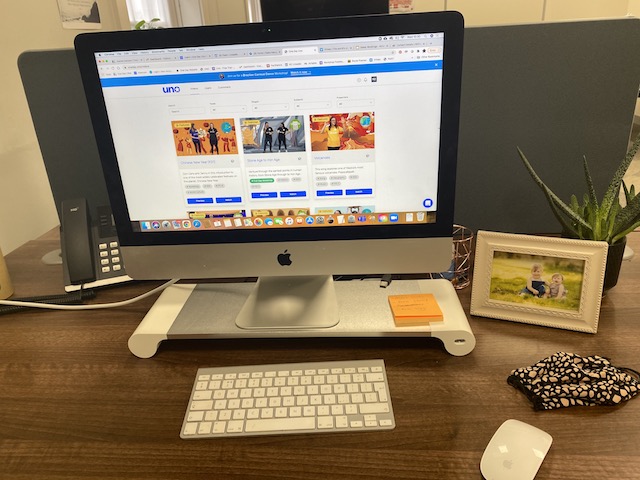 1) I always have a photo of my girls. I miss them all the time – but sometimes do appreciate the peace and quiet at my desk (even though I share an office with my hubby)!
2) A plant is essential. It makes me feel calm. I love a bit of green.
3) A face mask. It is 2021 after all darling!
4) Post it notes! Things are moving so quickly at the moment, if I don't write stuff down… I'm in trouble. My memory isn't what it used to be! I blame children and lockdowns!
Jess' desk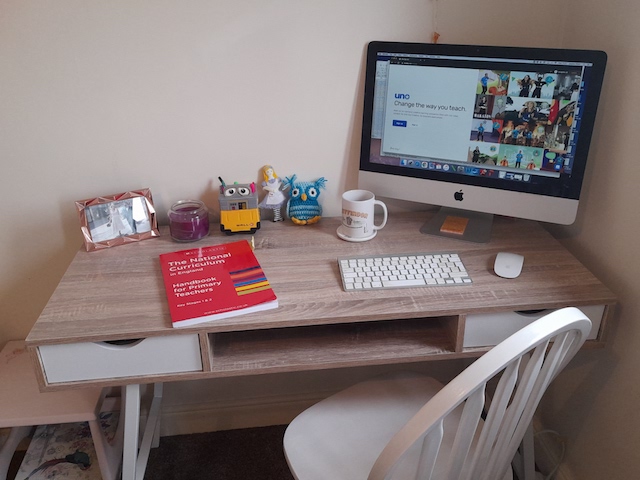 1) I have my Gryffindor cup that was a present from some lovely friends who I used to work with at one of the castles used in the early Harry Potter films. It's near where I grew up so reminds me of Northumberland.
2) One of my favourite wedding photos to remind me of a wonderful day and that there will be lots more to come!
3) My crocheted owl was made by my mum so it keeps me company at my desk.
4) I have the National Curriculum book out a lot so that we can make sure our resources, workshops and online content are tailored to the requirements of the curriculum. Trying to make teachers' lives as easy as possible!
Sarah's desk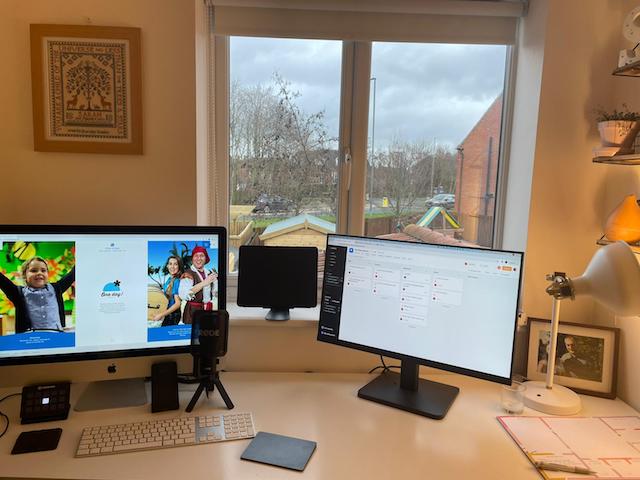 1) I love new tech so I have as many devices as I can comfortably fit on my desk (Sarah, do you *really* need three screens?).
2) Even if it is a bit grey outside at the moment, having a window to bring the outside in always brightens my day.
3) I'm trying hard to use less paper so most of my organising and notes are done on apps, but I also have a desk pad for when I just have to scribble something down.
4) Hung above my desk is a cross stitch made for me by my very talented Grandma as a little reminder to keep being creative.
Ruth's desk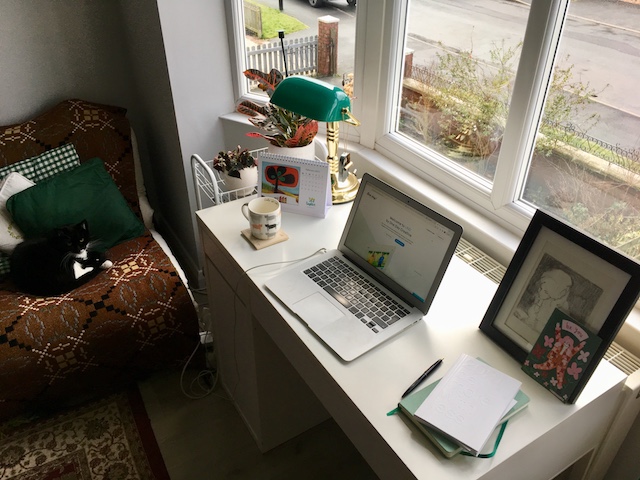 1. I'm constantly scribbling down notes and adding to/ticking off my to do list, so a couple of notebooks and a pen are essential!
2. I love this pencil sketch my Grandmother drew of me when I was younger. I'm actually writing in it, which is why it's framed on the desk where I do all of my writing work.
3. A desk calendar is essential. I do a lot of social media scheduling so being able to see the dates as a glance is really helpful.
4. My not-so helpful work companion, Roo, can usually be seen 'supervising' from her chair.
What items do you have on your desk that you couldn't do without? Let us know!
Love from all the busy bees (and their desks!) at One Day Creative x