Back
One Day Tackles Sectarianism In Scotland!
Over the last few years, Scotland has been talked about across the world.  People have had a chance to find out more about the country, what is has to offer and its huge range of great people! We are proud to work all across the UK, and have a fantastic Scottish team dedicated to the schools from Durness to Dumfries. Naturally, we jumped at the chance to help get rid of one of the nastier issues that is still present in parts of Scotland.
At One Day we were delighted to team up with the Central Scotland Regional Equality Council – CSREC – to work with two schools in Falkirk and tackle Sectarianism head on with our message of equality, respect and friendship.
Now (drum roll please…) we are proud to present highlights of The 2015 Church Games below!
Through exercise, teamwork and performance, we worked with pupils from both schools to teach them key issues around respecting others. By the end of the two days we spent with the schools, the only way you could tell the pupils apart was the uniforms. The teamwork and friendship culminated in a performance for staff and pupils which ended in a surprisingly impressive dance off!
This project wouldn't have been possible without the fantastic work of our director Shona, and Claire Harvey from CSREC who was an absolute pleasure and we hope to work with again in the future.
Claire had this to say about the project: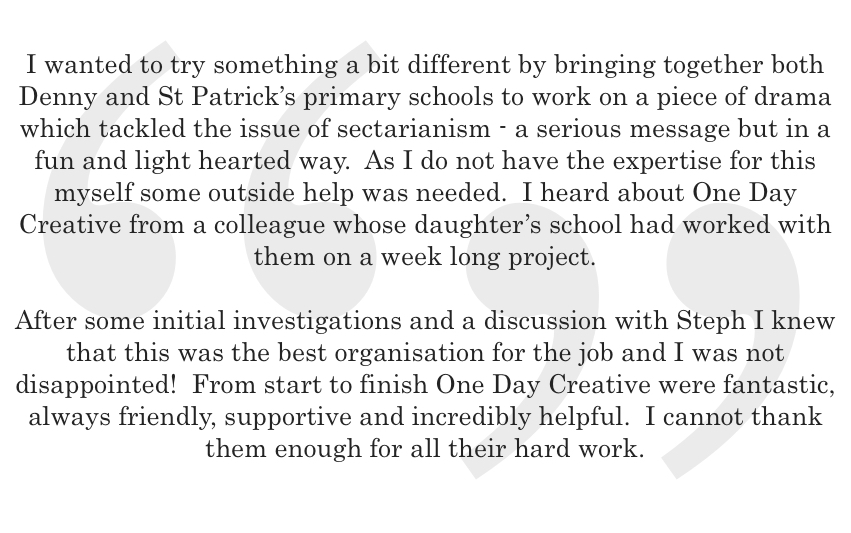 Lastly, we have to thank the fantastic pupils and staff from both Primary Schools in Falkirk who took part. We are honoured to have worked with Scotland's bright future on such an important issue!
Although there's still a few weeks left in Summer Term we're thinking about next year already 🙌 Earthquakes & Volca… https://t.co/62FxhyoHSk
Posted 24 Jun
Follow Us!