Back
Ideas to celebrate UK-India Year of Culture 2017 in your school!
Did you know that 2017 will see a year-long programme of exciting events to mark cultural ties between the UK and India? Bring the culture, vibrancy and colour of India alive in your school, so every child can experience a taste of this fascinating country!
1. INDIA MEETS BRITAIN (KS2 DRAMA) – Join us on an INDIAN UK adventure! Through drama, we'll explore India and Britain's pairing throughout history, art and culture. Get ready to travel all areas of this vibrant country, meet some colourful characters, and push creativity to the max. Find out more
2. BHANGRA INDIAN DRUMS (MUSIC) – Introduce your pupils to the sounds and rhythms of traditional Bhangra Drums and percussion instruments. Tied in with Punjabi culture, history and dance, Bhangra drumming will create an energetic atmosphere in your classroom in seconds! Find out more
3. DANZ BOLLYWOOD (DANCE) – Our expert dance directors are ready to get young learners of all backgrounds excited about music, Bollywood dance and Indian culture! We'll bring the groove and the moves, you just need to bring your dancing shoes! Find out more
4. DIWALI FESTIVAL OF LIGHT (DRAMA) – Welcome your very own Diwali festival into your school hall! We'll introduce the "festival of lights" and through drama, explore the significance and history of this wonderful festival. Get ready to celebrate! Find out more.
EARLY BIRD offers on our BRAND NEW workshops!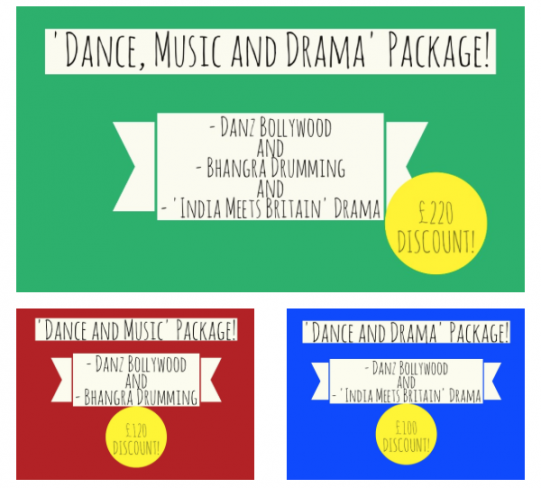 All Early Bird Packages are available up to 30 September 2016. Please do get in touch if you are interested in discussing any of our UK-India Year of Culture workshops, we are happy to help!
✨ New photos ✨ Before the summer break we got some snaps of One Day workshops in action! In our latest blog we shar… https://t.co/x9qbTE87CM
Posted 03 Aug
Follow Us!