Back
The ancient Hindu festival of Holi, also known as the Festival of Colours, is celebrated every year in spring. Originating in India, Holi festivities often last two days! But what's it all about and how can YOU take part in a Holi school workshop this year?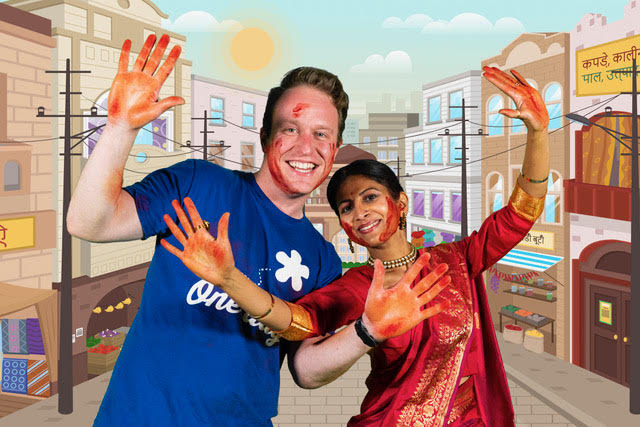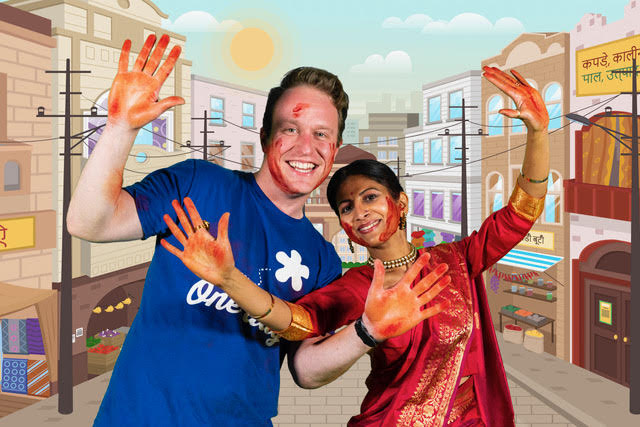 What is Holi Festival?
Holi festival marks the arrival of spring and celebrates themes like love, virtue and new life. Although religious ceremonies are held, people also choose to mark Holi in lots of fun (and sometimes messy!) ways. On the first day, enormous bonfires are lit and all manner of items, such as coconuts and rice, are cast into the flames. The following day, people flock to the streets to throw brightly-coloured paint, known as gulal, at one another. Spirits are high and the atmosphere is full of good-natured jubilation. Spring has arrived!
What's the story behind Holi?
A number of Hindu legends are woven into Holi festival, but two tales are key to the celebrations.
The Legend of Hiranyakashipu and Prahlad
Hiranyakashipu was an evil King who had special powers. Convinced by his own immortality, he forced everyone to worship him or face punishment. Despite this his son, Prahlad, continued to worship the Hindu god, Vishnu. Needless to say, Hiranyakashipu wasn't very happy!
Hiranyakashipu concocted a plan with his sister, Holika, to kill Prahlad. Holika had a special cloak that protected the wearer from fire and she planned to trick Prahlad into the flames. However, when Holika took Prahlad into the fire a gust of wind caused the cloak to fly off her and protect Prahlad instead.
Vishnu saw all of this and was angry. As a god, he able to navigate Hiranyakashipu's special powers and defeat the evil king once a for all. This tale is why:
Bonfires are lit on the first day of Holi festival
Sculptures of Holika and Prahlad are often put into the fire
Holi is a celebration of light over darkness and good over evil
The festival is called Holi – after Holika!
The Legend of Krishna
The Hindu god, Krishna, was in love with a goddess called Radha. However, he was worried that she would not love him back because his skin was blue after being poisoned as a baby.
When he voiced his concerns to his mother, Yashoda, she mischievously suggested he smear some brightly coloured paints on his face instead. Being a little bit mischievous himself, Krishna did exactly that! Luckily, Radha fell in love with him anyway and they soon got married. This tale is why:
Holi is known as the Festival of Colour
Celebrations involve throwing vibrant, powdered paints at one another
There's a tradition of good-natured practical jokes during Holi
Holi is a celebration of love
How can I find out more about Holi Festival?
Want to know more and celebrate yourself? We have transformed our popular Holi school workshop into an exciting online video for primary-aged pupils! Join our presenters, Charu and Clem, for an interactive adventure into the history and traditions of this colourful Hindu festival.
Please visit our online teaching platform, Uno, to enjoy this online workshop and many more. As well as Holi Festival you'll also find videos on the Stone Age, Shakespeare, Great Fire of London, Online Safety, Titanic, Mindfulness, Electricity, Anti-Bullying – the list goes on! Sign up for your free trial today!
Although there's still a few weeks left in Summer Term we're thinking about next year already 🙌 Earthquakes & Volca… https://t.co/62FxhyoHSk
Posted 24 Jun
Follow Us!