Back
Guide To Making A One Day Christmas!
Each year we are snowed under with Christmas recommendations: the latest song, the latest gift, the latest game. However, the festive period is also a time for celebrating tradition and sharing your favourites, new or old, with your nearest and dearest.
With that in mind, the One Day team wanted to share their festive favourites with you. These are our own Christmas recommendations, across a range of categories, so you can maybe find something new to fall in love with this Christmas!
Film, recommended by Charlotte
The Muppet Christmas Carol
"The greatest Christmas film in the history of the world ever is The Muppet Christmas Carol. That's not a question, it's a fact. It's just not Christmas until Rizzo the Rat has been set on fire, dropped in ice water and turned into a ratcicle ("Light the lamp, not the rat, light the lamp, not the rat!!!"). It's a cheeky choice really because it also comes complete with some great Christmas songs – who doesn't feel festive when Kermit the Frog sings "There's only one more sleep till Christmas"? This used to be the film I watched as I was forced to tidy my room on Christmas Eve. Now I'm an adult, nobody can make my tidy my room/house (sometimes I wish they would!), so I watch it whilst putting up the tree!"
Snack, recommended by Rachael
Fruit Santas
"After eating lots of naughty stuff around Christmas, my favourite treat is to make little fruit Santas! They are so easy to make – all you need is cocktail sticks, green grapes, strawberries, sliced bananas and mini marshmallows.
So easy and so festive! Great for a party or just for a snack watching some Christmassy TV!"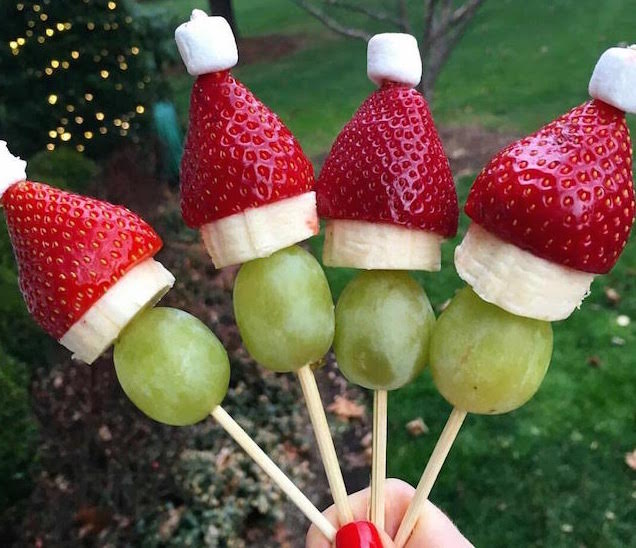 Song, recommended by Jess
Wham! – Last Christmas
"My favourite festive song is Wham! Last Christmas – I look forward to hearing it every year mainly because I have grown up listening to George Michael so it reminds me of that special Christmas feeling you remember with family as a child. I also love the video – the 1980s is in full swing with George's mullet reminiscent of a lion's mane, the ski lodge and the knitted jumpers that still look great today. However, the smouldering look George throws across the dinner table at the woman who gave away his heart is enough to make me look forward to seeing this yuletide treat every year! Merry Christmas!"
Game, recommended by Anna
Heads Up!
"My favourite game to play with my family at Christmas is "Heads Up!". It's a modern take on the Rizla game and charades created by Ellen Degeneres (watch her play this on her show- it's hilarious!) and it's a great way of combining technology with traditional family fun! In our house, it usually starts of relatively calm but by the time the timer and sound effects kick in, we're all competing to shout out our answers and it gets very chaotic and super competitive. You can literally play it for hours and not get fed up!"
Book, recommended by Ruth
The Jolly Christmas Postman, Janet and Allan Ahlberg
"There are almost too many to choose from, from classics like Dickens' A Christmas Carol to more modern favourites such as Mog's Christmas. However for unrivalled excitement, wonder and anticipation of the day to come, I have to opt for The Jolly Christmas Postman. Following the postman around as he delivers festive greetings to a bunch of fairytale characters on Christmas Eve is almost like a gift in itself – especially as you get to open and read some of the cards yourself!"
What are your favourite Christmas treats and traditions? Let us know! Hopefully we've managed to introduce you to a couple of new favourites, but however you spend your festive period, we wish you a happy and peaceful break.
Lots of love from all the One Day team x