Back
One Day Team Building Event, Jan 2017
Earlier this month Team One Day came together for a day of learning, sharing and inspiration. With dozens of facilitators all over the UK, plus a core office team based in Yorkshire, it is so important for us all to be able to get together, show off our skills, share our invaluable experiences and … of course … have a lot of fun!
Our facilitators travel the length and breadth of the UK, bringing Dance and Drama workshops on a huge variety of topics to schools in every location. Village schools, big-city schools, coastal schools, countryside schools – we've been to them all – and between us we have a huge amount of experience to share. And yet because of the big geographical area we cover, it's not often we have the opportunity to do so!
Greetings, hugs and excited chatting out the way, we got stuck right in with some big team games. Physical theatre played a big part as we added actions to our introductions, one-by-one saying our name with an accompanying move for everybody to copy. Things got loud and fast pretty quickly, with everybody trying to go even bigger than the person before!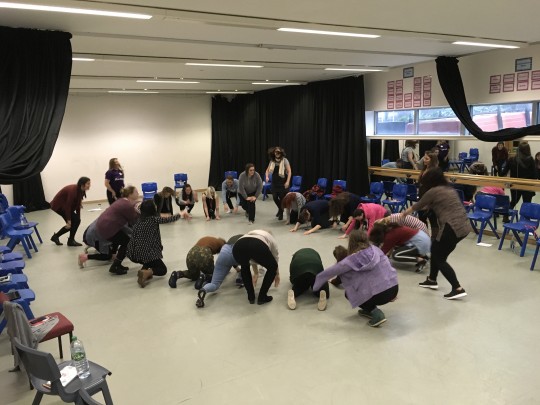 It was then time to split into groups for statue games, working together as teams to create certain 'scenes' with our bodies. This is a game we often play at the beginning of the day with pupils as it is fantastic at encouraging team work, introduces them to the theme of the coming drama workshop, and gets them thinking about how to convey meaning with their bodies. It's also ok to be loud and a bit silly, which is great for challenging energy at the start of the day!
It's not often than we get the opportunity to take part in these games ourselves, but having run them countless times it meant we had some pretty impressive creations!
With energy high and heart rate pumping, it was time to sit down together and discuss the important work we do. This was a perfect opportunity to discuss the One Day Creative vision, what we aim to achieve, and the principles we hold dear. Passion, belief, care, trust, impact, inspiration, positivity – these are all values we bring to each and every corner of the business and it was wonderful to hear our facilitators talk with such enthusiasm about their collective experiences. We shared success stories, challenges faced, problems overcome and goals achieved. It was also a time to share tips and tricks, helping each other find new and effective ways to engage children creatively.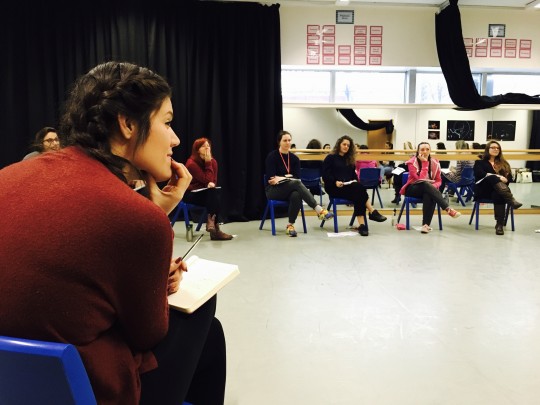 With an absolute armoury of games, activities and call-and-responses now up our sleeve (MAC AND CHEESE … EVERYBODY FREEZE!), it was time to split once more into groups to create drama scenes based on what we had learnt. The twist? Each team had to create their scenes within a specific style: rap, poetry, advertising and soap opera! They had just 10 minutes to come up with a scene (don't worry, we usually give the children we work with a bit longer!) and the results were AMAZING! See for yourself …
Rap
Poetry
Advertising
Soap Opera
After a well-earned lunch, the afternoon continued with a carousel-style segment where our brilliant regional leaders: Carly, Polly and Sam, held masterclasses on some of our most popular workshops. Our superstar facilitators don't just deliver our workshops, they also work with our Artistic Director Steph to help to develop them, constantly encouraging feedback and striving to make everything we do as impactful as possible.
The room was buzzing, and we harnessed that energy to start planning our own workshop days, incorporating all elements from the day and culminating in a big sharing at the end.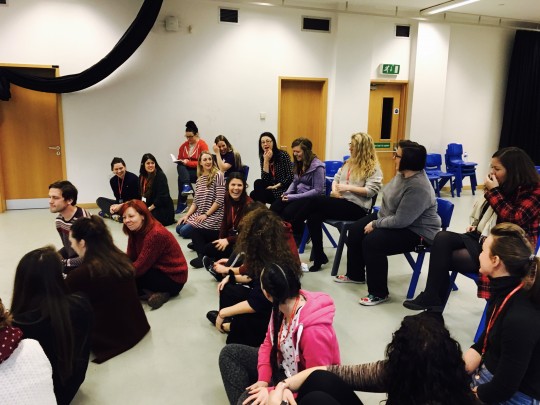 One Day swag was brought out and duly pillaged (everyone loves hoodies and tote bags!) as final farewells were made. We're a hugely passionate bunch here at One Day, but behind that we also have an incredible amount of experience between us. The office team hear that positive feedback from schools each and every day, but for the facilitators themselves, it is hugely valuable to come together and realise the impact of the work they do.
Bringing topics alive for children, adding value to classroom teaching and make a positive difference is PRECISELY what we strive to do, and we're always learning. A huge thank you to all of our wonderful team, as well as the brilliant schools who continue to work with us. We truly couldn't do it without you.
✨ New photos ✨ Before the summer break we got some snaps of One Day workshops in action! In our latest blog we shar… https://t.co/x9qbTE87CM
Posted 03 Aug
Follow Us!