Back
Every year in November, schools around the UK come together for Anti-Bullying Week. Organised by the Anti-Bullying Alliance (ABA), it is a week dedicated to addressing bullying in all its forms, whether physical, emotional, verbal or even online.
Anti-Bullying Week is an opportunity for schools and caregivers to talk about the impact of bullying, the practices in place to combat it, and the messages we want to equip young children with so that they too can make a stand against bullying.
At One Day Creative it is a busy week, with our special anti-bullying focussed workshops and performances in even higher demand than usual. It's a pleasure to work with so many young pupils and talk to them directly about their views on bullying and the affects it can have. Here are just some quotes we've received from children following our visits: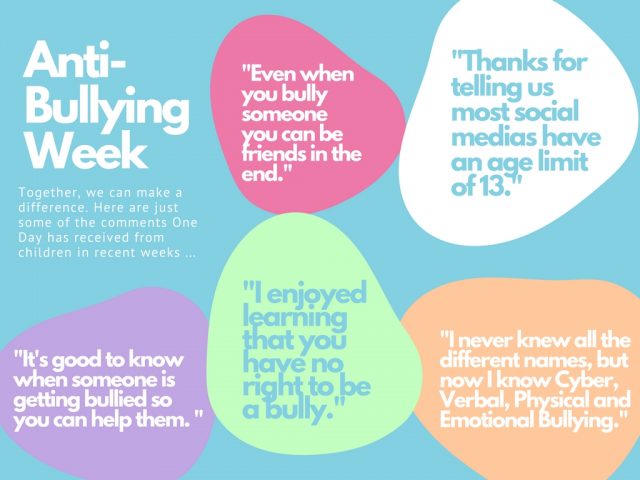 One of our main aims is to equip both the pupils and the schools with specific tools and messages that they can continue using in the classroom to reinforce the anti-bullying message. It has truly been a pleasure seeing so many of you this Anti-Bullying Week, and it has been wonderful to receive your photos and messages in return!
Here are a few photos from last week's #AntiBullyingWeek showing from the One Day Theatre Company and their performance of 'Tweet Town' 🎭#StopAndBlock #WeAreStrongerTogether #FoxCatCricketPinocchio pic.twitter.com/z1uZkRdYk4

— Walton Oak School (@WaltonOak) 20 November 2017
#AntiBullyingWeek was rounded off in style on Friday afternoon with a show called Tweet Town, by @OneDayCreative , teaching our children about online bullying and what we can do to prevent it. #AllDifferentAllEqual pic.twitter.com/zYy32ryjQp

— St Jude's C of E (@stjudeslambeth) 20 November 2017
Year 5 and Year 6 are enjoying their anti-bullying workshop with @OneDayCreative as part of our Family Week – #AllDifferentAllEqual

— Gilbertstone School (@GilbertstoneSch) 13 November 2017
Great start to our Play in a Day workshop @OneDayCreative @SafeguardingYP @ABAonline pic.twitter.com/rmRn7D3IwV

— Northfield Juniors (@northfieldjun) 16 November 2017
Year 5 throwing themselves into the @OneDayCreative #AntiBullyingWeek workshop pic.twitter.com/o9bZrCJMD6

— St-JamesSchoolYear5 (@St_JamesYear5) 16 November 2017
Year 4 have had such good fun working with @OneDayCreative Thank you Polly! See you soon! #TweetTweet

— OLS Year 4 (@olsyear4) 10 November 2017
Thank YOU to this lovely class who our facilitator Sarah has just spend 8 weeks with teaching Mindfulness #education #teaching #thankful pic.twitter.com/y1pbFim6XD

— One Day Creative Ed (@OneDayCreative) 16 November 2017
A huge thank you to all the schools who welcomed us in for Anti-Bullying Week.
Lots of love from all the One Day team x