Back
Easter Craft Ideas For The Classroom
Spring is a perfect time to awaken those creative impulses that may have been hibernating over the winter months. Colours are beginning to bloom in our gardens and the days have gotten longer. Why make the most of this new lease of life by reaching for the coloured paper and pens? Here are some lovely Easter craft ideas to welcome the arrival of spring.
1. Colourful Easter Baskets
Fancy carrying around your prized eggs in a fancy Easter basket? This Easter craft is simple to make and easy to personalise. Simply print a template you like, decorate to your heart's content, then cut out and assemble. It's fun to stick on extra crafty bits and bobs to make each basket really stand out – pom poms and googly eyes are our favourites! Big side panels, like we show in the photo below, are ideal so you can splash as much colour on as possible. Activity Village has a good selection of templates to choose from.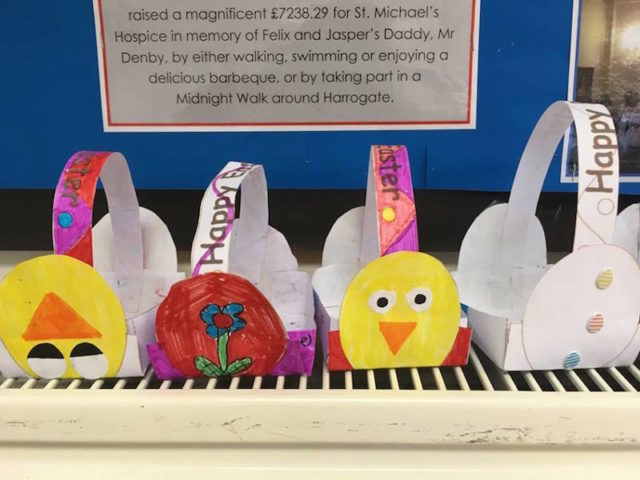 2. Paper Plate Rabbit Mask
Ah, the good old paper plate! Springtime is synonymous with Easter, and no spring classroom craft idea would be complete without a visit from the Easter Bunny. If you're up for a whole CLASSROOM full of Easter Bunnies, this paper plate mask is perfect for you. A great one to take home and enjoy during the holidays.
3. Origami Easter Bunny
If you've already done the rabbit mask, perhaps you're ready to embark on a slightly more dextrous Easter craft? Origami requires patience and is better suited to slightly older children due to its fiddly nature. However, it's an absorbing activity and the results are charming.
4. Eggshell Mosaic
You can't get through Easter without encountering an egg or two. Usually they're in chocolate form, but did you know you can use real eggs to make art? Keep hold of any used eggshells, wash and dry them out, before painting in a variety of colours. Crushing the shells up into small pieces makes for a perfect mosaic! In this video the artist creates a boat. But, as this is an Easter craft, why not go for a flower, chick or rabbit?
5. Easter Chick Handprint Card
This handprint card is a fantastic Easter craft for many reasons. Firstly, it's bright and fun. Secondly, using the handprint makes every single one unique to its maker. Thirdly, it makes a lovely greeting card which can be passed on and enjoyed by others. Oh, and it's easy peasy to make too! If you're wanting to wish someone a Happy Easter in a special way this year, get crafting!
We wish you all a very happy Easter. Love from the One Day Creative team x