Back
Easter Craft Ideas For The Classroom!
Spring is a perfect time to awaken those creative impulses that may have been hibernating over the winter months. Colours are beginning to bloom in our gardens and the days have just got longer, so make the most of this new lease of life by reaching for the coloured paper and pens! Here are some lovely Easter craft ideas to get the creativity flowing and welcome in the arrival of Spring.
What's more, crafting is a marvellously mindful activity. The focus required can be incredibly calming and often the process of creating something special is just as enjoyable as the end result. Crafts engage the senses, keep the mind occupied and allow for self-expression. That makes these Easter craft ideas perfect for #MindfulMondays!
1. Colourful Easter Baskets
Fancy carrying around your prized eggs in a fancy Easter basket?! This Easter craft is simple to make with endless opportunities to personalise. Simply find a template you like, print it out, decorate to your heart's content, then cut out and assemble. It's also really fun to stick on extra crafty bits and bobs to make each basket really stand out – pom poms and googly eyes are our favourites! Big side panels, like we show in the photo below, are ideal so you can splash as much colour on as possible. Activity Village has a good selection of templates to choose from.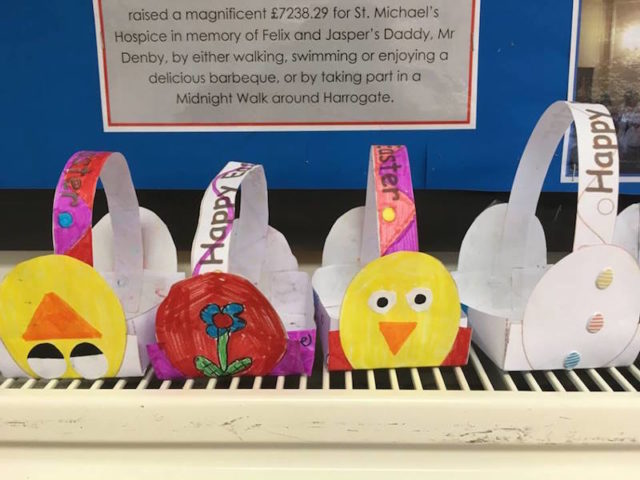 2. Paper Plate Rabbit Mask
Ah, the good old paper plate! Springtime is synonymous with Easter, and no Spring classroom craft post would be complete without a visit from the Easter Bunny! If you're up for a whole CLASSROOM full of Easter Bunnies then this paper plate mask is perfect for you. A great one to take home and enjoy during the holidays.
3. Origami Easter Bunny
If you've already done the rabbit mask, perhaps you're ready to embark on an Easter craft for the slightly more dextrous. Why not try your hand at origami? It requires patience and is certainly better suited to slightly older children due to its fiddly nature, but it's an absorbing activity and the results are delightful.
4. Eggshell Mosaic
You can't get through Easter without encountering an egg or two! Usually we're eating them in chocolate form, but did you know you can also use real eggs to make art? Keep hold of any used eggshells, wash and dry them out, before painting in a variety of colours. Crushing the shells up into small pieces makes them perfect for a mosaic! In this video the artist creates a boat, but as this is an Easter craft why not go for a flower, chick or rabbit?
5. Easter Chick Handprint Card
This handprint card is a fantastic Easter craft for many reasons. Firstly, it's a really bright and fun idea. Secondly, using the handprint makes every single one unique and special to its maker. Thirdly, it makes a lovely greeting card which can be passed on and enjoyed by others. Oh, and it's easy peasy to make too! If you're wanting to wish someone a Happy Easter in a special way this year, get crafting!
How do you practice Mindfulness in your school? There is just one week left to take part in our #MindfulMondays initiative and tell us what your school does to stays mindful. Simply send us a quick email on hello@onedaycreative.com – we'll enter you into a prize draw to win a discounted Let's Talk About It school performance for your school! For more information on #MindfulMondays read our blog here. 
We look forward to hearing from you and wish you all a very happy Easter!
Love from the One Day Creative team x
We've loved visiting schools this week with our brand new Holi Festival workshops. What a celebration it's been. So… https://t.co/so2keP9vaw
Posted 22 Mar
Follow Us!