Back
The Big Friendly Read: Our book picks
Every summer holiday, children around the UK are encouraged to sign up to their local libraries, to borrow and read six books of their choosing. Its called The Big Friendly Read and here at One Day we think it's a BRILLIANT initiative.
With just a week or so of reading time left before the autumn term begins, we wanted to share some of our favourite children's books with you. Perhaps you're searching for that final book to read before going back to school? Maybe you've completed the challenge but still have the reading bug? Here's what we loved to read as children, and still love to read to this day. Why not see if you local library has them and get stuck in!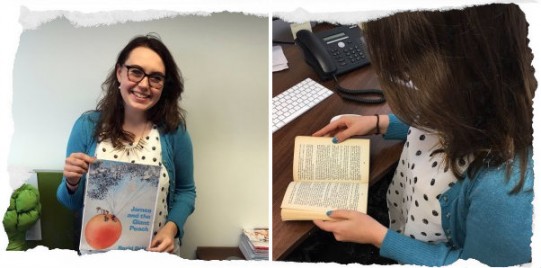 Sarah: 'James and the Giant Peach' by Roald Dahl
"I love James and the Giant Peach because it's an adventure story. That's always what I was really into when young: going on an adventure and finding new things! I think it's the travel that makes it special. Roald Dahl often sets stories in one place, but with James and the Giant Peach, every chapter they're in a new environment. You really feel like you're travelling through it.
The story is so fantastical, it becomes almost dream-like. It is a bit scary too, but I really like that it has a bit of an edge. I was never into princesses or anything like that growing up, I enjoy a little bit of hardness in stories, which this has.
The illustrations are so iconic too, with Quentin Blake's drawings. Visually it's just a wonderful book, like the image of the peach flying away with the seagulls pulling it. It's so beautiful!"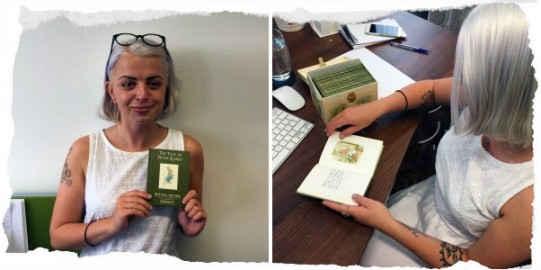 Jess: 'The Tale of Peter Rabbit' by Beatrix Potter
"We had the entire Beatrix Potter collection at home. Peter Rabbit's my favourite one, although I did like Jemima Puddleduck because of the name! You recognise the illustrations too, they're like old friends. I look at Peter Rabbit and think 'I know this guy!'. 
I remember reading this book after I watched the Beatrix Potter film. In the film she's writing and painting Peter Rabbit in the countryside – it's lovely! I remember saying to my Mum that I wanted to read the book, and then I think I loved the books even more.
They are warm stories, although Peter Rabbit does have a bit of a chase around by the farmer. I'd definitely recommend it to children nowadays, one of my friends recently was struggling for something to buy for her new nephew and I said she should get a Peter Rabbit book. They can read it to him and it's so nice to have those books you remember from really early childhood."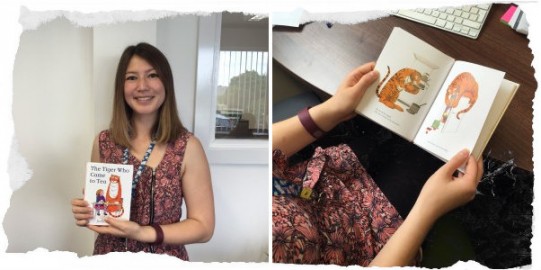 Emily: 'The Tiger Who Came To Tea' by Judith Kerr
"He was a bit of a cheeky tiger wasn't he? He got away with things you wouldn't get away with as a human. He just knocks on the door and is like "I'm very hungry", so they start feeding him! But he eats everything and drinks all the tea and starts going through all the cupboards and generally makes a bit of a mess. So he's a very cheeky tiger.
I always liked the idea that the tiger wasn't actually real though. Because in that final picture of the book there's a little cat, so it hints towards the tiger just being the girl's imagination. I always thought about that, because it left it up to you whether the tiger was real or not. Plus, if the young girl is making the tiger up then her Mum is playing along with the game too.
I'm into children's illustrations because I'd love to do it, so it's really interesting that Judith Kerr didn't start off as a children's illustrator. She was originally an art teacher – it's always interesting to see how people got there."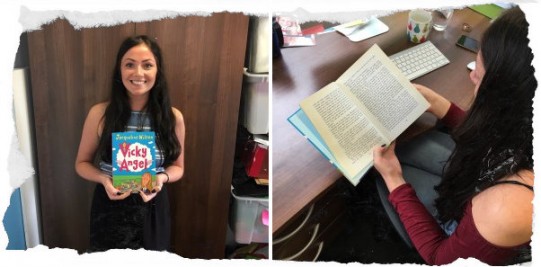 Aimee: Jacqueline Wilson
"The main thing I liked about all Jacqueline Wilson books was that they were about female relationships. So a lot of the storylines were about mother-daughter relationships, but also friendships as well, and as a girl growing up you have so many anxieties to do with friends so it's something you can really relate to.
I liked Bad Girls especially, because it was about a little nerdy girl who was really good at school and I was a bit of a nerd at school. Mandy, the nerd, makes friends with Sonya who's this cool kid but has issues at home. So Mandy looks up to her a bit and they get into a bit of trouble together.
I had friends who weren't as dedicated to their school work so I was properly Mandy in the story! I also really like Nick Sharratt, who does all the illustrations."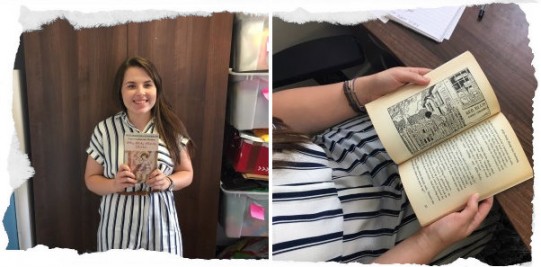 Ellie: 'Milly-Molly-Mandy Stories' by Joyce Lankester Brisley
"It's so rural and countryside-y! I think because I always lived in cities, reading the book was so nice because it was a kind of escapism. Her going blackberry picking and going to run errands! That was the other thing I liked – she was given responsibility in the book. I have a little brother and sister, and when I was younger my Mum gave a lot of responsibility to me, so I always saw myself as a Milly Molly Mandy!
Even though she's got responsibilities it's still fun because she's out in the countryside, experiencing new things and sometimes getting into a bit of trouble. There's so much technology available nowadays for children, Milly-Molly-Mandy is probably seen as more of a history book! They'll think 'Wow, did they really used to go and buy buttons from a shop?!"
I had a limited edition book too, it's a big pink and white stripy book so I liked the aesthetic of it. I still have it in my room at home."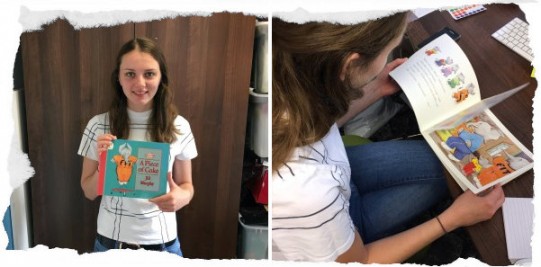 Naomi: 'A Piece of Cake' by Jill Murphy
"They're a little family and the book is simple, but there is still a good story to it. This one's about how they go on a diet as a family but they get sent a cake and they just can't resist it – so they decide together that maybe elephants are supposed to be big. I relate to that!
The illustrations were really cute. It's the little things like having scrunchies in their hair. They are just a normal family, but elephants. It just works. Elephants are my favourite animal and I think the book is probably why!
I read through it again as an adult and I was thinking about how it's quite a strong message actually – she wants to lose weight. But she's realised that elephants are meant to be big, that's just how they are and that's absolutely fine. It is lighthearted, but the message is meant to convey that you are fine just how you are."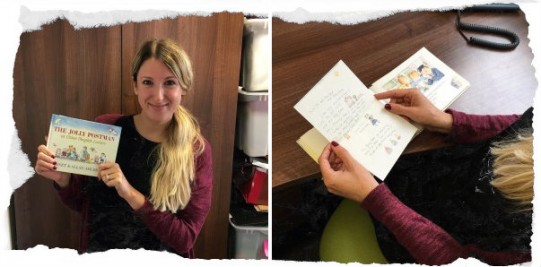 Jenny: 'The Jolly Postman' by Janet and Allan Ahlberg
"My Nanna bought me this book for Christmas and I just absolutely loved it – especially opening all the little letters! It's so nice to follow the postman on his journey as he visits and delivers letters to the well-known fairytale characters in their real life situations.
It's really clever the way they've done it, and funny too. Each page is a surprise, like he goes to the Three Bears' cottage and delivers and apology letter from Goldilocks! And there's a postcard for the Giant from Jack and the Beanstalk. There's even a card with money in it! Kids just love opening letters and getting things in the post, so I don't think it will ever lose it's appeal.
I was seven when I got this book and I still read it now to my niece – it's her favourite book too! I've told her the story of when I received it – that I was the same age as her – and how I've kept it all this time because it's really special."
From all of us here at One Day, we hope you enjoy these last days of your summer holidays. And if we haven't quite ticked your reading boxes here, The Big Friendly Read website allows children to find new books (courtesy of the brilliant Book Sorter), record the ones they've just read, and discuss which books they've loved with others. Give it a go!