Back
Anti Bullying Week 2016: Advice To My Younger Self
November 14-18 marks Anti Bullying Week, a hugely important week in the calendars of schools, teachers, parents and pupils around the UK.
The theme this year is "Power for Good". Bullying so often comes with feelings of helplessness, so reasserting that each and every one of us has the power to do good is a strong message and one we must share with today's children.
We are strong, we are powerful, we can make a difference!
But when you're young, sometimes it's hard to be strong, or to know how to enforce positive change. With that in mind, we've been thinking what advice we would give our younger selves to give them strength and help through the years to come.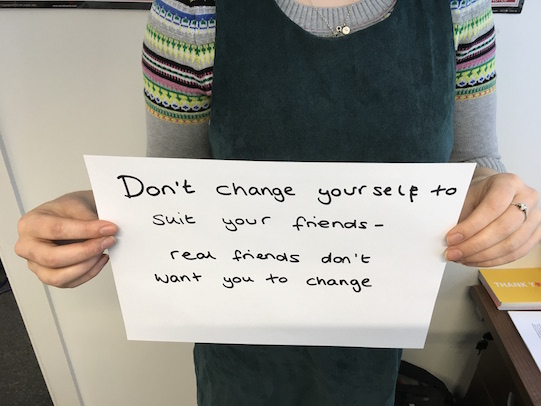 Sarah
Messages to my younger self …
Mum isn't trying to ruin everything, she just wants to help
You are capable of more than everyone knows right now
Don't change yourself to suit your friends – real friends don't want you to change
Success is defined in so many more ways than just academic achievement – being happy with who you are makes you a success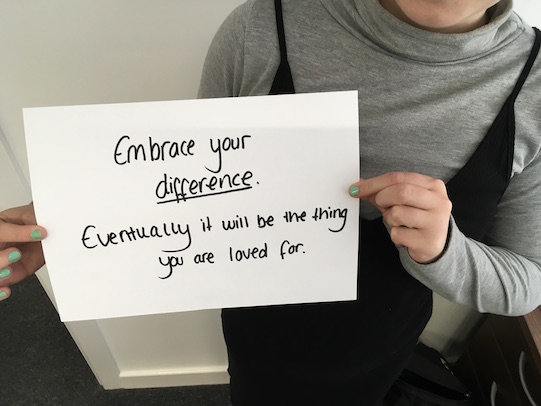 Jess
Three things I'd like to tell you …
Being kind is a skill, and there will be no better feeling than to be a Master of your skill
Embrace your difference. Eventually it will be the thing you are loved for
We have survived our hardest days. When you think you are having a really bad day, I want to warn you that there may be worse to come, but also assure you there will be so much better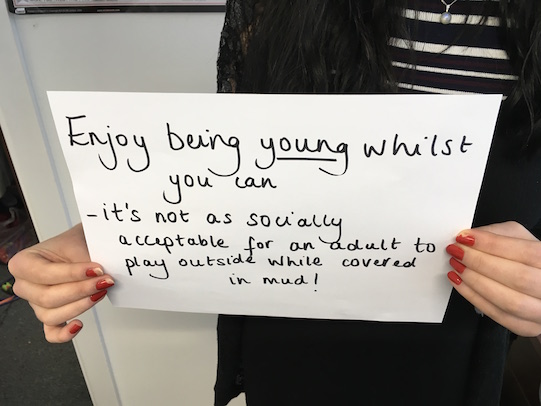 Aimee
Messages to my younger self …
Stick to what you enjoy and are good at, no matter what is defined as 'cool' at the time
Your parents are (nearly) always right
Enjoy being young while you can – it's not as socially acceptable for an adult to play outside climbing trees whilst covered in mud …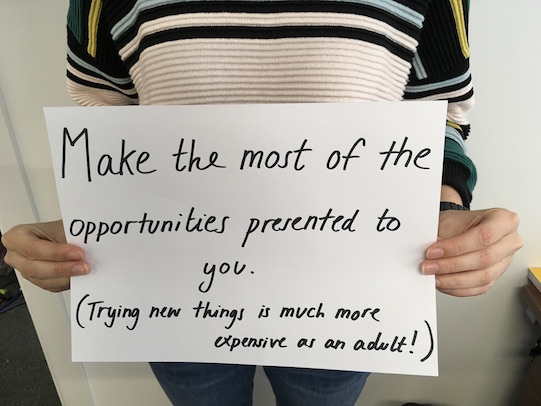 Ruth
Remember to …
Do more of the things that make you feel happy and fulfilled
Make the most of the opportunities presented to you – trying new things never gets old (but it does get much harder and more expensive as an adult!)
Don't let anyone else define you or change your principles. What others say/do says more about them than you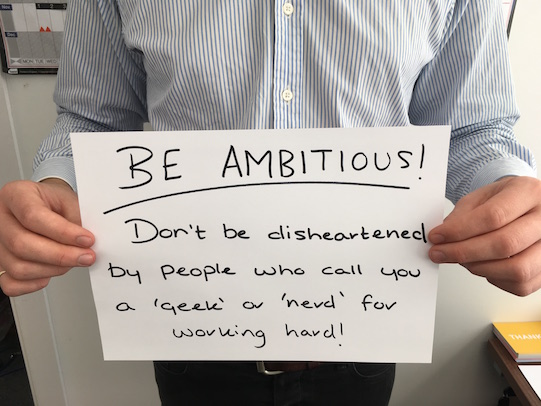 Kit
Probably the most cogent advice that I would give my younger self, is …
To remember the importance of ambition. Don't be disheartened by the people who label you as a 'geek' or a 'nerd' for working hard
Don't be tormented by the people who tell you that it's not 'cool' to be a certain way, or to do a certain thing
What is important, is that you do what makes you happy, regardless of what anyone else says
Be true to yourself. Don't let anyone question your worth. Enjoy your childhood. Appreciate those who care for you. Be kind to others. Important lessons to both learn AND teach. What would you say to your younger self, if you could?
Our team of dance and drama facilitators are up and down the country this week, delivering Anti Bullying workshops and performances to over 70 schools. From mindfulness to cyber-bullying, accepting differences to dealing with anti-social behaviour – the messages are varied but so relevant to today's children.
For more information on the week or resources you can bring to your school, visit the Anti Bullying Alliance website. If you would like to know more about the creative workshops and performances we can bring your school for Anti-Bullying Week 2017, please get in touch with us,
Love from the entire One Day team x