Back
Summer Term Drumming Bonanza
As we head into the summer term, we're gearing up to a busy summer of drumming workshops. Over the last 4 years we have delivered our range of workshops to thousands of children in schools across the UK. We have worked with reception and nursery classes, up to year 6 classes – and we've even delivered team-building workshops for staff and governors…. no matter what the age, our music workshops are tailored so they are fully inclusive, educational and really good fun.
What schools love about our drumming workshops – it that they allow children to experience playing professional standard instruments and investigate new rhythms and styles of music that they may not have the opportunity to experience in everyday school life. Our sessions really push the boundaries of rhythm, sound and creativity; leaving every participant feeling excited, invigorated and proud of what has been achieved in a relatively short space of time. Here are some of the most popular choices…
Brazilian Samba Drumming
The popularity of our Samba Drumming sessions has been amazing! Schools have been regularly rebooking this workshop for years. We bring the sounds of Brazil to your school with Surdo, Djembes, Agogo Bells, Tamborims, Jam Blocks, Snare drums and shakers.
With Samba drumming being such a vibrant and upbeat style of music, children often dance whilst drumming and during our end of day performances, parents get to take part by clapping along a traditional 'Clave' rhythm. Samba drumming is so much fun!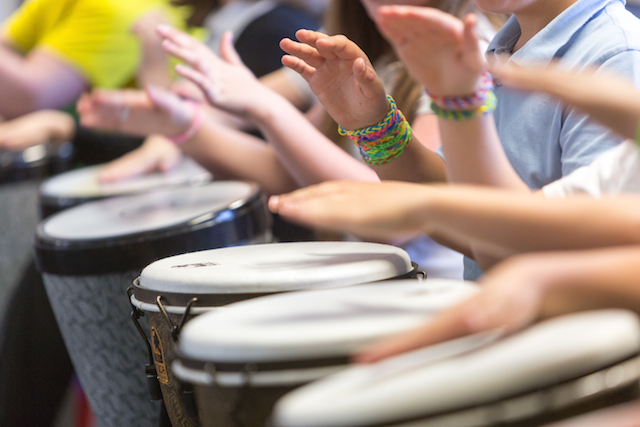 Indian Bhangra Drumming
We were super excited to launch our Bhangra drumming workshops earlier this year. As 2017 is the Indian Year of Culture – what better way to celebrate than drumming up a storm on Dhol drums. Along with the Dhol, we use a range of Indian hand percussion instruments…. very different to anything you would use in western drumming genres.
We are finding that schools love this workshop! The Dhol drum is a really specialist instrument played with two different sticks; pupils really are engaged when they play them…. and the rhythms used are again, very different to what we are used to hearing.
Junk Funk & Scrap Raps
We have found this to be our most creative workshop to date… after all, we turn up to schools with random recyclable junk in huge buckets, and by end of the day we have fully formed Junk Funk Orchestras! We encourage pupils to think outside the box with this workshop, and they always work out new ways of playing the junk that we have never seen before. I just hope the children don't go home and start emptying out the kitchen cupboards to drum on pots and pans!
Our unique scrap raps are proving a big hit too. We have a range of raps on various themes such as recycling, transition to high school, anti-bullying and healthy eating. As we can tailor the raps to any subject you like – this workshop is perfect for any topic. After a Junk Funk workshop, pupils learn how to see rhythmic potential in absolutely everything.
So is your school celebrating a culture day this summer? Or are you hoping to deliver a whole school vibrant carnival? An end of the school year celebration for the leaving year 6 pupils? Whatever the reason, our International Drumming workshops will really help bring the party to life!
Love the One Day/Rock School team x
@BartonMossCPS Thanks so much for sharing! Lovely to see so many smiles, hope you're having a brilliant and productive day.
Posted 15 hours ago
Follow Us!