Back
Here at One Day Creative HQ we love challenging subject matter, and so we're super excited to announce that our latest performance explores mental health and emotional wellbeing.
It's estimated that 1 in 10 young people will experience a mental health problem. That's three students in an average classroom. Now more than ever, young people's mental health and emotional wellbeing presents a huge challenge, and we're pleased to be able to help parents and teachers address this complex topic through thought provoking drama and creativity in our new performance, "Let's Talk About It!".
Available for booking now, this interactive performance tells the story of Sam, whose life is turned upside down when she moves to a new city and a new school. Sam has always been happy and relaxed, but is now coming to terms with new feelings sadness, worry and fear.
However, among all the change, Sam uncovers a new hobby: drawing! One day Sam's sketches come to life and, through the help of her new friend Bernie the Brain Buster, she is taken on an interactive journey which explores real-life change, online worries, emotions and feelings.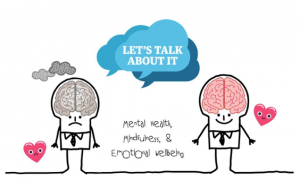 Through characters, engaging songs, music and digital on-screen animations, Sam learns simple techniques like mindfulness to help fight worry, sadness and negativity. Overall, students learn techniques on how to care for their mental health and to accept bad feelings. It's a technique which works very well when presented with a mammoth topic like mental health.
In 2015, Disney Pixar's feature film Inside Out brought the issue of mental health to the forefront of people's minds. The family film about an 11-year-old girl named Riley also featured the emotions that ruled her conscience: Joy, Fear, Anger, Disgust and Sadness. For children trying to understand their mental health, visuals like those used in Inside Out and "Let's Talk About It!" present an effective way to help children grasp the topic and themes.
Ways to help a child who is suffering from mental health issues
There are other ways you can help or identify a child coming to terms with a mental health problem:
Speaking openly about mental health and your own experiences can reduce any fear or confusion that the child might be feeling
Be available to listen if they are having problems or just want to talk
Keep an eye out for changes in their behaviour, for example if they suddenly become quiet or withdrawn, or if they no longer want to participate in activities that they usually enjoy
Help them find and take part in activities they enjoy. Physical exercise, for example, can help let off steam and reduce anxiety
As a parent, if you feel concerned about your child's mental health, you can ask your GP for an assessment, or contact a local support organisation specialising in young people such as Young Minds
What we can do
Our "Let's Talk About It!" whole school performance introduces the complex topics of mental health, mindfulness and emotional wellbeing in an approachable and entertaining way. Through live performance and audience interaction, this performance uses drama, song and activities to expand the children's knowledge of mental health. By encouraging students through creativity and imagination, we want to empower them and allow them to see the benefits in their daily lives.
If you'd like to find out more or book for one of our performances, please click here for more information.
Love Becky & the One Day team!
Happy Friday AND Happy Christmas Jumper Day from the One Day office team! Anyone mind if we stay in these cosy knit… https://t.co/qgfiCUjJyI
Posted 21 hours ago
Follow Us!