Back
Anti-Bullying Week 2017 – Workshops & Whole School Performances!
Anti-Bulling Week 'All Different, All Equal'
Although we're still in the midst of Summer Term, the team here at One Day are already looking towards one of our busiest periods of the year – Anti-Bullying Week!
'All Different, All Equal' is this year's theme, and it's a message that all schools can get behind year round.
This November looks set to be busier than ever, with our wonderful facilitators delivering a whole range of workshops, in conjunction with TWO Anti-Bullying and Online Bullying focused shows touring UK-wide. Here at One Day, we're on a mission to keep children happy, healthy and safe; and our interactive performances are the perfect way to deliver that message to the whole school! Every single one of our shows provide an interactive, musical experience – which allows us to explore difficult topics in a fun and approachable way.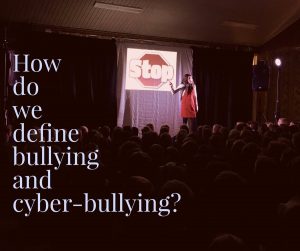 Tweet Town
Tweet Town is our brand-new show for 2017, and in this exciting new performance we see the story from both sides. From Cat and Fox don't realise they are being bullies, to a real life boy, who just wants to make some new friends. Through the use of music, animations, and of course, our wonderful actors, we transport your children into the world of Tweet Town, where they can learn about different types of bulling, and recognising the difference between real life and online worlds. 
UGLY
UGLY is an energetic and interactive performance, which initiates a crucial conversation about Online Bullying, and guiding the way for children to seek help and support. It's one of our longest standing performances, which we've brought back out on the road after consistently excellent feedback from schools we've previously visited! Here, we explore some of the myths surrounding bullying and peer pressure – along the way meeting up with the well known characters including Cinderella and Prince Charming (well, over Skype at least!)
"We really enjoyed the performances and it gave an excellent high focus introduction to our anti-bullying week. In particular, the audience of the Y1-3 show commented on how well suited it was to the needs of the children and the singing kept the children so engaged. They absolutely loved the involvement of the teacher getting dressed up! It was lovely to see the Y4-6 children recalling ALL of the information from the show in the Clueless quiz at the end. 
We are completing work next week (our full anti-bullying week) in response to the show."
Our One Day Workshops are available all year round, and offer a participatory approach to tackling the topic. We provide a safe environment to explore a difficult, thought provoking topic through the use of role play and creative drama activities.
To get a feel for how our Performances and Workshops could make an impact in your school, check out our Video Introduction!
We'll be out on the road between October and December, so if you think your school is ready to welcome our wonderful actors into your school hall this Autumn – get in touch!
For more information, and available dates in your area, contact us on 01937 206 063 or hello@onedaycreative.com.
Love Sarah and the One Day Team x
Happy Friday AND Happy Christmas Jumper Day from the One Day office team! Anyone mind if we stay in these cosy knit… https://t.co/qgfiCUjJyI
Posted 21 hours ago
Follow Us!